If you're looking to grow your apparel brand, check out our case study on how we increased revenue for an online boutique by 307% in the first 3 months of working together! Using our proven Ecom Sales Accelerator™ system, we boosted the conversion rate by 26%, increased AOV by 26%, and increased store sales by 307% in just 3 months. By month 6, we increased revenue by over 500%!
About the Client
The client is an online clothing boutique that offers a wide selection of size-inclusive women's apparel that is trendy and stylish. The client came to us with the goal of becoming an exclusively plus-size brand and growing their revenue.
The Challenge
Before working with us, the owner of the business had tried advertising herself but wasn't seeing results. She needed a team of experts who knew what they were doing. Her website wasn't converting and was missing key elements. She didn't have a consistent email marketing plan in place and needed guidance on how to make the most out of each advertising platform.
The Solution
We helped the client achieve remarkable growth by optimizing her website with reviews, an FAQ page, and an enticing email pop-up for new customers. Our Meta ads strategy utilized a dynamic catalog carousel to focus on best-selling products and maximize ad performance. We also implemented an email marketing strategy including weekly collection launch emails and other targeted campaigns based on purchase history, resulting in excellent email performance. The brand experienced a substantial boost in revenue and increased engagement, paving the way for long-term success.
The Results
Our Ecom Sales Accelerator™ system proved to be a game-changer for this client. Within the first three months of our partnership, we helped the client reach a 307% increase in revenue. These incredible results were fueled by a 26% boost in the conversion rate, an 26% increase in AOV, and a 307% surge in store sales. We continued to successfully scale the brand, and by the sixth month, the client experienced a revenue increase of over 500%.
Total Revenue (May 1-July 31, 2021): 307% increase in online store sales compared to the previous period (Jan 29, 2021-Apr 30, 2021)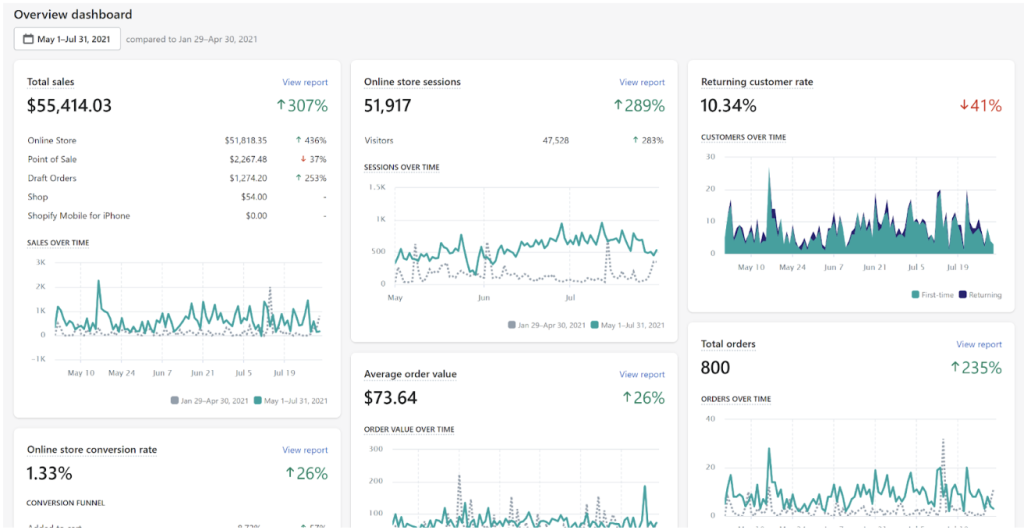 Looking for similar results for your brand? Book a Free Strategy Call with us!
Book a free strategy call